Hair Transplant Training
Dr. Tayfun Oguzoglu offers hair transplant trainings at Drt Hair since 2010. He offers individual and group trainings according to the request of the trainees. Many doctors from different parts of the world come to Drt Hair for working and training with Dr. Tayfun Oguzoglu personally. Dr. Tayfun Oguzoglu prepares tailor-made and detailed trainings, so that the doctors can start performing hair transplant operations after their training at Drt Hair.
Dr. Tayfun Oguzoglu trains doctors on classic motorized FUE method in vast detail. After the main training about the motorized FUE method, channel opening with sapphire blades, high-density recipient creation, DHI implantation, premade slit and manual methods are covered in detail. Furthermore, Dr. Tayfun Oguzoglu also offers trainings on other or more advanced methods if requested.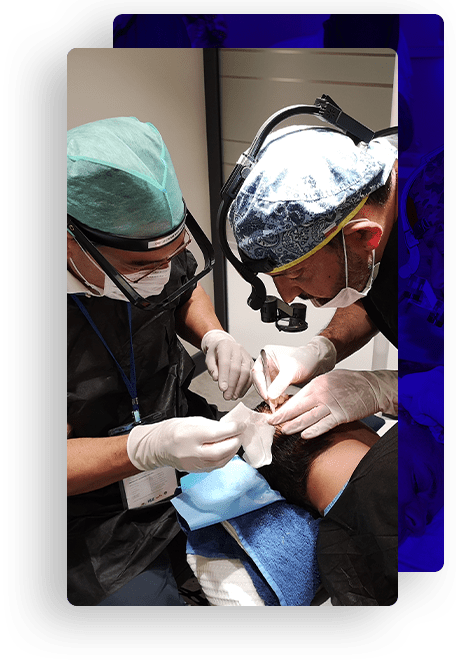 Dr. Tayfun Oguzoglu attended ISHRS' "Regional FUE Workshop" as the chair in 2016 and in 2019 he was the co-chair of ISHRS' "Cadaver and Live Surgery Workshop". Furthermore, he trains many Turkish and international doctors at International INDERCOS dermatology congress' hands-on workshops in the last 4 years. Besides these organizations, Dr. Tayfun Oguzoglu also attends FUE Europe workshops every year to provide trainings and enrich his knowledge through working other doctors in the field.
Dr. Tayfun Oguzoglu is a Fellow of ISHRS. This title is only given to limited amount of hair surgeons around the world and it means that the title holder has the authority to train others in the field. In accordance with this title, Dr. Tayfun Oguzoglu offers trainings on FUE Excision only to medical doctors.
Note: We only offer intermediate and advanced level courses.