Sapphire FUE
A hair transplant with  Sapphire FUE method known to be very efficient and dense. In regular hair transplant surgeries, the channels are opened after the extraction of the grafts from the donor area. In the SPS method, the channels for the new hair follicles are opened at the beginning of the operation with Sapphire Slits before the extraction. In SPS method, the channels are opened only with Sapphire Slits which have 0.8-1 mm diameters. This method has many advantages. It allows a doctor to transplant faster and with more density. Moreover, the grafts are directly implanted into these channels without dissecting all of the hair grafts. In this sense, this method is also known as Direct Hair Transplant. In general, SPS method leads to healthier hair grafts and better results than regular/conventional hair transplant methods.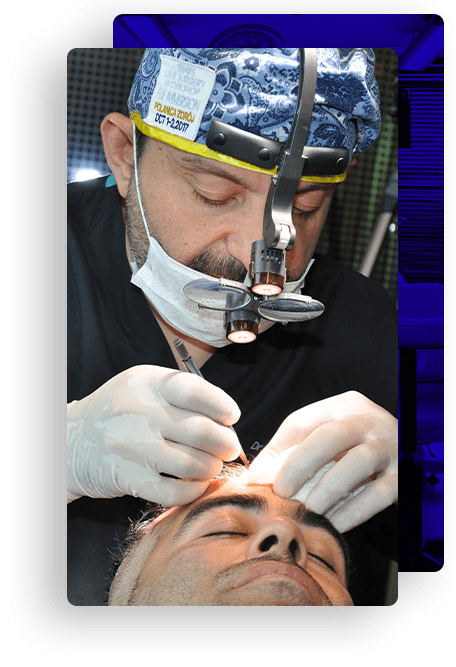 The advantages of using Sapphire Premade Slit (SPS) method includes;
Sapphire slits are very sharp and have a smooth surface and, in this sense, SPS allow us to transplant hair with 30 % more density than regular slits.
Sapphire Premade Slit (SPS) Method also minimize the damage to the existing hair at the recipient area.
Sapphire slits minimize the tissue damage and trauma, therefore the healing process after a hair transplant with SPS method is faster.
The scar formation is minimized with Sapphire slits since it allows the skin to smoothly recover.
In this method, the hair grafts are kept out of your body for a shorter amount time than other hair transplant methods. In this sense, SPS provides a higher survival rate and healthier grafts.
In SPS method, there is minimal mechanical handling of the grafts since the channels are Premade and most of the grafts are not dissected like in regular hair transplant methods. This leads to less trauma and higher survival rates for the hair grafts.
When compared to other methods Sapphire Premade Slit (SPS) method has a clear superiority. The advantages it provides are far more than a conventional hair transplantation. This is why we only use Sapphire Premade Slit (SPS) method for all our operations at DrT Hair Transplant Clinic.